Clay City, IN - Mayberry of the Midwest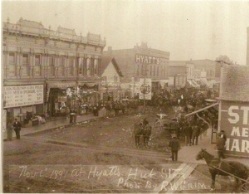 Clay City is a 145 year old town (Est. 1873 current pop. ~ 861) in Clay County, located in South Central Indiana. This website invites you to spend a few minutes to learn a little bit more about us.
Visitor's letters have described Clay City as "a town in a time capsule" and "a throwback to the days when people waved to friends, knew neighbors on a first name basis and took time to enjoy visitors." We have a lot to offer - great schools, hometown events all year long, small town pride and much, much more.
Clay City USA Foundation, Inc is the sponsor of this website and is a civic-minded organization working together with citizens to enhance the town of Clay City and its surroundings.
Clay City, IN
Stop by and see what this town has to offer. Whether it is a bite to eat at
Joe's
or stopping in to see Darin at
Darin's Doodads
, you'll be glad you did!
Come see why we're the "Mayberry of the Midwest"!
Thanks Maddie for the photography and Larry for the tractor pictures.